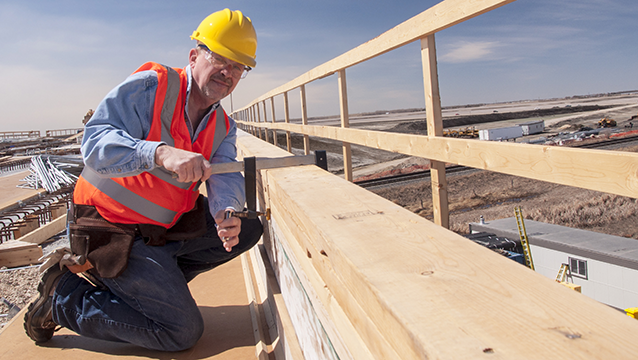 About
One of the few highway jobs where your feet don't stay on the ground. You'll build the job-specific wood forms needed for concrete bridge construction. The work is very demanding, due to the amount of lifting, carrying and hammering required. But in this type of work, you can go far and high at the same time.
Duties
Erects the basic structure of bridges, sets and ties steel, assists in pouring, grading and finishing concrete. Assists in rigging and provides flagging and direction to the Crane Operator. Tears down the wooden forms afterward. Ensures a safe working environment throughout the process.
Work Conditions
Work is outside at highway construction sites, in all kinds of weather. The normal workweek is 40 hours (eight hours a day for five days). However, some projects may require night, weekend, holiday work and overtime.
Training
Training is mostly on the job but you can complete a formal apprenticeship or attend a trade school. 
Salary
According to the Bureau of Labor Statistics the annual mean wage nationwide (2014) is $41,000.