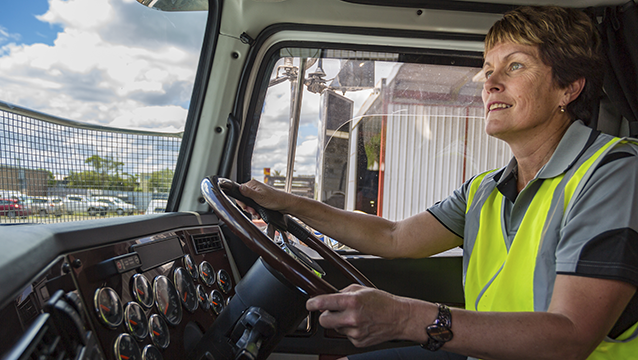 About
Without all the massive equipment needed at a construction site, nothing can get done. This is where you, as the truck driver, come in. You're responsible for hauling construction equipment and materials to and from all job sites. You must have a current valid commercial driver's license (CDL) and a thorough knowledge of how to operate and maintain single and multi-rear axle trucks.  
Duties
Transports equipment and material. Performs pre-trip inspections and maintains a driver's log book. Safely loads and unloads all equipment/materials over all terrains. Responsible for routine fueling, lubricating and servicing of vehicles. When not driving, must be able to also perform tasks involving physical labor.
Work Conditions
Work is outside at highway construction sites, in all kinds of weather. But you can escape the elements when inside your cab. The normal workweek is 40 hours (8 hours a day for five days). However some projects may require night, weekend and holiday work.
Training
Many training programs and community colleges can prepare you for exams that lead to both Class A and Class B commercial licenses. The Class A license is for big trucks such as rigs and trailers; the Class B license applies to straight trucks, such as delivery trucks. 
Salary
According to the Bureau of Labor Statistics, the average annual wage for all truck drivers in 2013 was $40,940.

---