8 GOOD REASONS TO WORK IN HIGHWAY CONSTRUCTION
Right now, Georgia's road construction industry is offering you the opportunity of a lifetime—a lifelong career that provides you with great pay, great benefits and steady work. It also gives you the satisfaction of building something significant for your community and your state.
---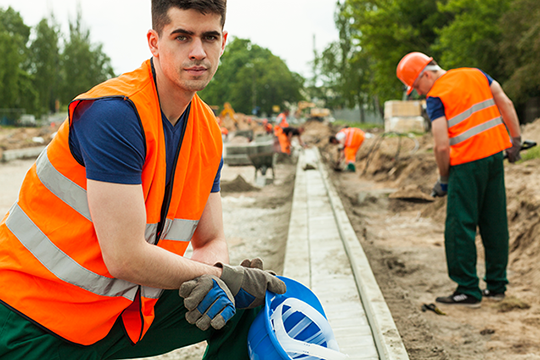 1. GOOD JOBS ARE AVAILABLE NOW
New funding boosts demand for skilled and unskilled workers.
2. SALARIES AND BENEFITS ARE GENEROUS
Even entry-level pay is high, with good benefits as you progress.
3. EMPLOYMENT IS YEAR-ROUND
Tons of projects and a mild climate yield steady work.
4. IT'S A CAREER, NOT JUST A JOB
Work hard, move up and enjoy the life you want.
5. BUILD SOMETHING MEANINGFUL
You can point with pride at what you've built.
6. WORK IN DIFFERENT PARTS OF THE STATE
Near or away, each job's an adventure.
7. DO SOMETHING DIFFERENT EVERY DAY
Escape the routine - gain skills in a variety of jobs.
8. YOU AREN'T COOPED UP IN AN OFFICE
Working outside beats working inside, any day.